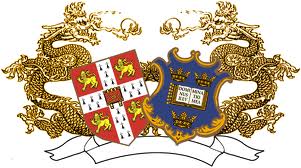 Denis Moriarty

is a lecturer and Study Course director who spent most of his early working life as a BBC television producer. He was educated at Reading School, and after national service as an infantry officer in the Royal Berkshire regiment in Germany, read history at St John's College, Oxford.

He joined the BBC in 1959, and after a short period in radio and personnel, became a director and producer in television Music and Arts. His programmes included the series on ENGLISH TOWNS with Alec Clifton-Taylor, FACE THE MUSIC with Joseph Cooper and Joyce Grenfell, ONE HUNDRED GREAT PAINTINGS, EDWIN LUTYENS MASTER ARCHITECT, THE TRIUMPH OF THE WEST, and films on Egypt in the CHRONICLE and TIMEWATCH series.

He lectures widely for the National Association of Decorative and Fine Arts Societies – NADFAS –, visiting many societies in the United Kingdom, on the continent, and in Australia; he also addresses meetings of the National Trust, English summer festivals, civic and literary societies.

He directs study courses at music festivals at home and abroad – Prague, Salzburg, Schwarzenberg (Austria) Vienna and Finland, and leads architectural and historical tours in England, to France, Italy, Portugal, Malta, the Azores, Sri-Lanka, north and south India, and east coast America. He has also worked in Egypt, Mexico and Latin America.



Denis Moriarty's

prime interests are music - he sang for a number of years in the Philharmonia Chorus – and architecture; he has a special love of England and its churches and enjoys long walks in the countryside.

He is a keen opera and theatre-goer, and at university performed in plays and revue with among among others, Dudley Moore.



Denis Moriarty

is a former Mayor of Henley-on-Thames and was twice a parliamentary candidate in the two general elections of 1974. He lives in central London.

Denis Moriarty

edited Alec Clifton-Taylor's papers and architectural notes for a posthumous publication BUILDINGS OF DELIGHT-Gollancz 1986, who also published his own book BUILDINGS OF THE COTSWOLDS in 1989, both reissued as paperback in the Building Heritage series 2000.

He contributed the article on Alec Clifton-Taylor to the Dictionary of National Biography, OUP 1990.